The Honorable Richard Gephardt is President and Chief Executive Officer of Gephardt Group
Before Gephardt Group, Congressman Gephardt served as Majority Leader of the United States House of Representatives and was one of the nation's most respected politicians for more than three decades.
The Honorable Richard Gephardt is President and Chief Executive Officer of Gephardt Group
Our Approach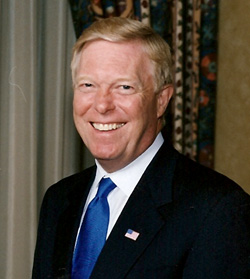 I feel strongly about the kinds of social, economic and political changes our nation needs to make in order to cope with the challenges of the new global marketplace.
People all around the globe have looked to the United States for leadership, not because of our military or economic might but because of our commitment to democracy and free market capitalism. If we are to maintain this leadership, we must revitalize the ideal of citizenship here at home and abroad, bring new integrity to our political processes, renew our focus on education, reform our healthcare system, increase our production and use of alternative energies and maintain our competitiveness in international markets.
Each of us, in unique ways, can make a difference–to our families, to our workplaces, to our nation. But doing so will require a new sense of purpose, a renewal of activism and an understanding that we are all in this together. It's a mission which we must devote ourselves. It's a mission dedicated to America's future. It's a mission that I want to contribute in the years to come, not just by words, but by example.
This mission is the founding principle for Gephardt Group. I hope you will join us.
—Honorable Richard A. Gephardt
About Gephardt Group
Dick Gephardt founded Gephardt Group in 2005 following a twenty-eight year career in the United States Congress. Gephardt Group is a multi-disciplined consulting firm with its primary focus on developing and promoting leading edge thought and best practices in the areas of labor relations and employee engagement.
Gephardt Group's Principals, advisory board members, and partners are widely recognized for their expertise within the labor management discipline and bring years of experience in business consulting, labor negotiations, politics, and media relations within industries such as automotive, telecomm, healthcare, aerospace and energy.